Hooker Sea Lions Plentiful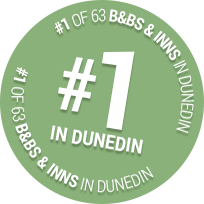 Just 5 minutes drive from our luxury self contained boutique accommodation is one of the Otago Peninsula's best kept secret! Allans Beach.
The scenery is spectacular as is the wildlife.
At this time of year the beach is home to many Hooker's Sea Lions - mothers, fathers and pups
Walk along this remote beach and adjacent Hoopers Inlet and you are likely to see many species of our New Zealand birds including terns, spur winged plovers, royal spoonbills , pied stilts and if you are really lucky a yellow eyed penguin.
Hereweka Garden Retreat is close to all the wildlife attractions on the Otago Peninsula, Dunedin. We can give you recommendations on where to go, what to see and suggestions of our pick of the best tours on offer.