Luxury accommodation boast Birdwatchers Paradise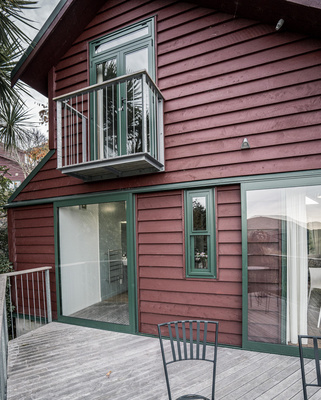 Autumn has many native birds flocking to our luxury garden accommodation on the Otago Peninsula to enjoy the many berries and fruit that are ripe in our large garden and the native bush that surrounds.
Although we are delighted that they have made their home at Hereweka Garden they can sometimes beat us to our fruit as it ripens.Especially the bellbirds.
Peter has had to build a fig house to preserve our figs from being eaten by the birds.
Apples have to be picked as soon as they ripen. Fortunately we have an abundant crop and so there is enough for us all.
The tuis and fantails come closer to the house in Autumn and many a fantail venture inside the house at this time of year if we leave our back door open.
The tuis seem to particularly enjoy the birdbaths and pots of water we have around the garden.
They splash about and ruffle their feathers.
This gives us a unique opportunity to study them up close and admire their magnificent plumage.
Our accommodation is an ideal place to stay if you enjoy watching birds.
You can view these birds from the many windows and decks of the Retreat
Or you might like to take a walk through our stand of native bush
Or watch the huge variety of wading birds at Hoopers Inlet, just a 5 minute walk from our Retreat accommodation.