Baby Hooker Sea Lions visit Hereweka Accommodation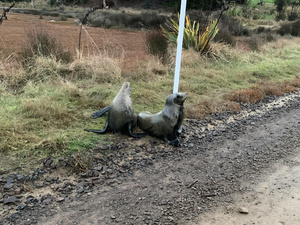 I couldn't believe my eyes the other day when driving home from town I saw 2 baby Hooker Sea Lions folicking in Hoopers Inlet right in front of our driveway!
What a thrill it was to see them.
Although they are breeding prolifically on the Otago Peninsula at Allans Beach and have a nursery at the mouth of Hoopers Inlet I have never seen them swim up to the head of the Inlet
I couldn't resist. I stopped the car to take a closer look and was rewarded by these two inquisitive babies coming out of the water to check up on me.
If you come to stay at Hereweka Garden Retreat luxury accommodation on the Otago Peninsula and you enjoy wildlife experiences you have come to the right place.