Kia Ora from Hereweka Garden Retreat
A Luxury Eco Self-contained Accommodation nestled on the Otago Peninsula, Dunedin, New Zealand.
Hereweka Garden Retreat offers self contained accommodation – organic breakfast hamper included. This architecturally-eco designed boutique accommodation is built with sustainable materials. Located in the renowned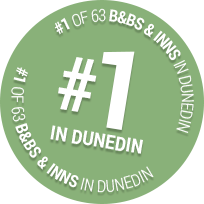 Hereweka Garden, our secluded retreat property has the only remaining valley of native forest on the Otago Peninsula and overlooks the breath-taking vista of Hoopers Inlet. Just 30 minutes drive from Dunedin central city, the lodge is situated on the slopes of the iconic Harbour Cone, far from the noise of traffic and close to many attractions on the Otago Peninsula.
Activities in our boutique garden retreat and on Otago Peninsula:
Relax in the eco-retreat and enjoy your views out onto the stunning garden and forested hills beyond

Wander the paths of the four-acre garden, exploring the bush walks and tracks surrounding it

Sit quietly and watch for native birds that abound in the bush – bellbird (koromako), wood pigeon (kereru), rifleman (titipounamu), kingfisher (kotare) and tui

Take the five-minute walk to Hoopers Inlet and check out the wide-ranging species of wading birds that inhabit the estuary

Cycle or drive to the habitats of the unique indigenous wildlife in the immediate vicinity; penguins, hooker sea lions, fur seals and the northern royal albatross – you can catch them all in one outing!
After your Otago Peninsula adventures...
Soak up the tranquillity and comfort of the retreat setting, situated for light and designed for warmth all year round: enjoy the sun-drenched decks on longer days, and when weather is cooler, snuggle in by the eco-approved fire.
Indulge your senses and offer yourself the treats Hereweka offers: sample award winning New Zealand wines, book a therapeutic massage, cook a sumptuous meal with organic produce, order a meal in cooked by our top-class chef, or try the local café or restaurant, just five minutes' drive away.
A perfect luxury destination in Otago with spectacular views of Dunedin's Otago Peninsula
Hereweka is the ideal choice of accommodation for those who appreciate eco-sustainable practice, nature, luxury and aesthetics. Whether you are on vacation, looking for a romantic weekend getaway, celebrating a special occasion; including birthdays, anniversaries or honeymoons, or simply longing for time-out in a tranquil environment; this is the perfect destination.