Great Walking close to Hereweka Accommodation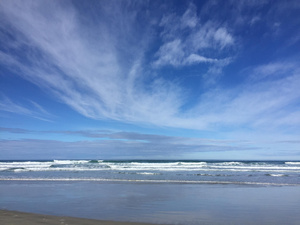 There are many wonderful walks to be had on the Otago Peninsula, Dunedin
Hereweka Accommodation is set in the heart of the Otago Peninsula and is close to many interesting walks.
We supply a pamphlet at our Retreat called "Otago Peninsula Tracks" which has suggestions of over 20 walks.
You can do several interesting walks directly from our property.
Most of the other walks are only a 5 or 10 minute drive away
You will experience a real sense of remoteness when walking on the Otago Peninsula.
Even though most of the walks are only 20 -30 minutes from the center of Dunedin you are unlikely to meet other people along the way.
At "our " beach, Allans Beach , which is only a 5 minute drive from our accommodation, on a sunny day the beach is far from crowded and you might even be lucky enough to have it to your self.
Coming back from my regular Sunday walk on Allans Beach last week I captured this magnificent sky on my camera.
The beach never ceases to amaze me. There is always something different to see.