Hereweka Garden Accommodation abundance of autumn flowering plants in May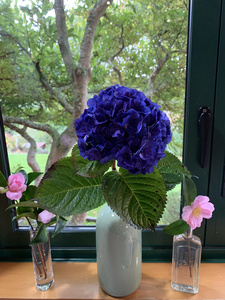 One of the many pleasures of living on our property on the Otago Peninsula, Dunedin is to walk around our garden and see what is happening.
Last weekend when we walked in the garden we recorded 60 different species of plants flowering.
We are delighted by this. Over the years we have managed to develop the garden so that it has year round interest.
Apart from the spectacular display of autumn colour there is also plenty of flowering plants to enjoy.
We are particularly pleased with our collection of autumn flowering sasanqua camellias which we have planted over the years.
The last of the hydrangea flowers in Autumn also provide a real lift to the garden.
One of my favourite "chores" most Saturdays is to full the house with flowers.
Sometimes I create an arrangement that feels particularly satisying.
This Saturday was one of those days. Hydrangea Meritts Supreme took centre stage complimented by the delicate soft pink sasanqua camellia.