Wonderful Walks close to Hereweka Accommodation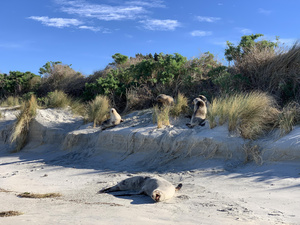 There are many wonderful nature walks close by our accommodation at Hereweka .
The Otago Peninsula Dunedin is a great place to see the plentiful wildlife present on the Peninsula including penguins, sea lions, seals and our famous Royal Albatross.
We are only a five minute drive from our local beach, Allans Beach.
It is a beautiful pristine beach rich in wildlife, particularly Hooker sea lions and sea birds.
I walk there every week and am constantly thrilled by the breathtaking secenery.
On Sunday I was walking with friends and was amazed by the number of sea lions playing and basking in the sun.
No matter what time of year it is watching the Hooker sea lions at Allans Beach is a delight.