Beautiful Autumn Weather on the Otago Peninsula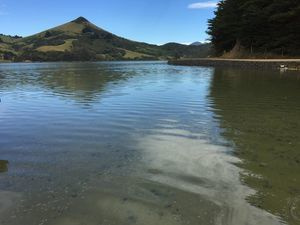 We are experiencing the most lovely Autumn weather.
I took this photo recently.
It is one of the many perfectly still Autumn days we have been enjoying, taken from Hoopers Inlet and looking back towards our accommodation.
Our luxury eco retreat is on the foothills of Harbour Cone and looks down on the Inlet.
Our luxury accommodation is a perfect place to stay as the days get cooler.
The Retreat warms up during the day if there is any sun as it has been built to capture all the light, sun and views.
The double glazed windows and wool insulation ensure the heat is retained but if it does get cool there is a Eco-approved Warmington woodburner to light.
Hereweka Garden Retreat, luxury accommodation on the Otago Peninsular is a perfect place to stay no matter what the weather.