Best time to see the Perennial Borders at Hereweka Garden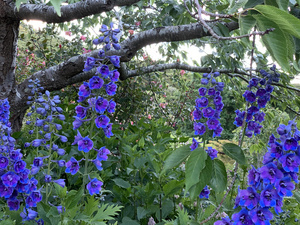 At Hereweka Garden the time to see the extensive perennial borders at there best is late November through to Mid -December.
The picture I have posted is a group of delphiniums flowering dierctly opposite Hereweka Accommodation.
You can view the perennial border from the windows of our accommodation .
Better still take a stroll and absorb the smells and sound of the garden.
Bellbirds and Tui song can be almost deafening.
The roses and lilies at this time of year smell devine.
The vibrancy and variety in tones of colour in the border are delightful on the eye.
Colours and tones of colours have been planted deliberately to create a peaceful and soothing atmosphere in our garden.
It is the perfect time to visit our accommodation at Hereweka Garden Retreat.