Hereweka Spring Garden like being in Japan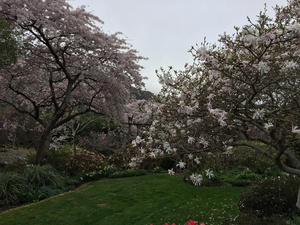 If you can't get to Japan why not come and visit Hereweka!
Our garden is full of many flowering cherries that are at their peak in September.
It's one of our favourite times in our garden.
The flowering cherries, Prunus Yedoensis , are so prolific that they full the garden with a beautiful light.
Its just as I imagine Japan to be in the spring.

I was booked to go with my daughter to Japan this year to see the blossom in Tokyo and Kyoto but sadly because of Covid we didn't make it.

However I can't complain as we live in a beautiful garden with a great display of cherry blossom to enjoy for most of September.
Its a perfect time to book your stay at Hereweka especially as we are running generous special rates at present.
20% discount off our usual rate. A 30% discount for stays of more than 5 days. You do have to contact us directly to receive these rates.