Ideal Time to view the Southern Aurora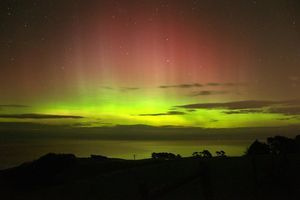 It is the perfect time to be viewing the Aurora Australis from Hoopers Inlet right now!
Our son follows www.aurora-services.net closely and let us know when its a good time to venture out into the night to take a look.
The other night he rang us to say that conditions were perfect for viewing the Aurora.
We were very excited as we had guests in our Retreat who were really keen to to see this spectacular display.
We all went down to the end of the drive and there it was.Wow!!
The photo belows not ours. It was taken by our son Jarrah.
He lives on the town side of Hoopers Inlet so took the high road out to Hoopers Inlet and this is what he saw.
From our luxury accommodation at Hereweka on the Otago Peninsula you can walk out onto the deck from the Reteat and get a specacular view of the Southern Sky.
There is no light pollution and no street lights.
Our guests love it.