Luxury Accommodation has fresh FIGS for your breakfast tray!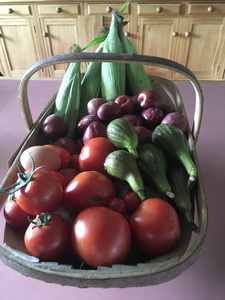 Its hard to believe but our fig tree has ripe figs ready for picking.
Most summers we don't have figs ripe until well into March.
But with the warmest January on record everything is early in the organic vegetable garden.
If you look carefully at the photograph you will see several ripe figs in the trug.
While we have surplus we delight in adding figs to the fruit bowl which we supply with your organic breakfast tray.
Our guests have been enjoying their delicious fresh flavour.