Organic Aurum Wines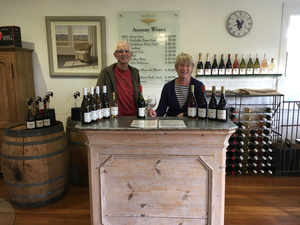 When you stay at Hereweka, our luxury Garden Retreat on the Otago Peninsula, you are able to purchase award winning top quality organic wines from Aurum winery .
We are proud to offer this range of one of the best organic wines available in New Zealand.
We were lucky enough to be hosted by Tony and Joan Lawerence over the weekend and stay at Arum vineyard, their family run estate in Central Otago.
The vineyard and winery are managed using certified organic practice.
We had a wonderful weekend staying in Aurum vineyards boutique accommodation which is set in peaceful rural garden setting.The accommodation is outstanding. For anyone traveling through Central Otago we highly recommend staying in this luxurious accommodation . www.arumwines.co.nz