Snow in Spring at Hereweka Retreat Accommodation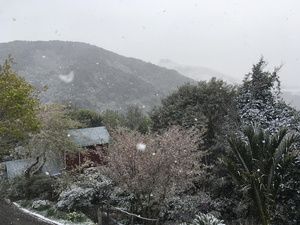 Its hard to believe but we had a snow fall today and it was like a magical wonderland at Hereweka.
Blossom and snow.What a wonderful site.
Our guests loved it.
They were cozy and warm with the eco approved wood burner blazing.
And gorgeous views of the garden and snow from every window of the the our retreat accommodation.
Our accommodation has double glazed widows and wool insulation throughout so is easy to heat even on the coolest days.