Winter Rates and Bumper crops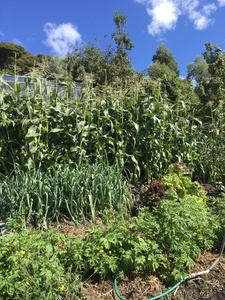 After Easter we move from our summer rate of $325 per night to our winter rate of $280 per night. We offer an additional 10% discount on bookings over 4 nights. (You will neeed to email us directly to recieve this discount.)
If you look at our TripAdvisor reviews you will see that our guest really enjoy their stay over the winter season.
Hereweka Retreat is a gorgeous, light restful space to be in.
The Retreat has a cozy wood burner.
Double glazed windows with wonderful views and light.
Fully insulated with sustainable and enviromentally sound wool bats.
The organic vegetable garden has been put to bed with a mulch of pea straw, seaweed and animal manure.
But what a bumper season we have had. The corn has never grown as well as this year. Wonderful to have enough to give away to family, friends and guests at the Retreat.
Carrots, beetroot, lettuce, leeks, potatoes, broccoli, cauliflower, fennel and many herbs continue to thrive.We are even picking some late tomatoes from the glasshouse.
Dany, our Chef continues to cook delicious meals using fresh organic vegetables. She will continue to do so over the winter months.
If you need a quiet few days away over the winter months Hereweka Garden Retreat is a perfect.